Unreasonable At Sea Day 2
Today we had a ~4 hour orientation: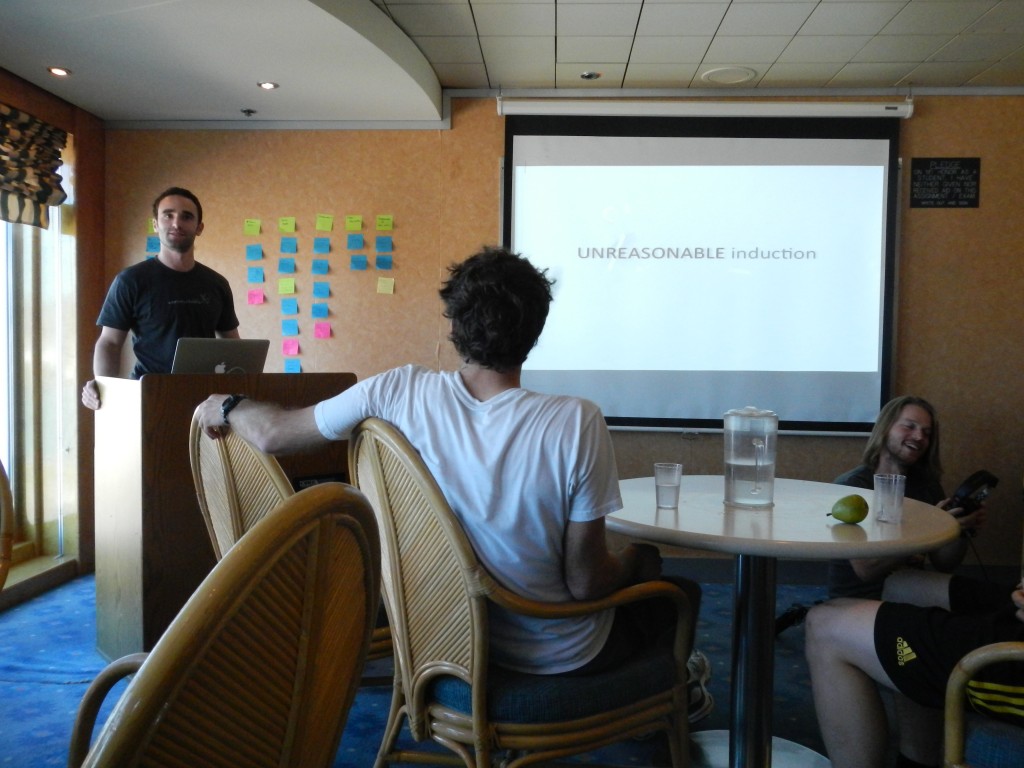 –>Some of the things we discussed:
We all must make decisions based on values, and treat everyone as if they are or might be the Messiah.
–>About 30 of us, all the Unreasonable Institute people did a big "get to know each other" game. We informed in 60 seconds, over and over, to new folks, what were each of our "super powers" and "kryptonites"
–>We seemed to come out of the excersize feeling that we each "connected" on our vulnerabilities
And I liked that Daniel used the term "misfit creative" about some of us
-to be bold, he asked someone to stand on the table and give a 30 second pitch. we all gave feedback and it happened 3 more times until it was pretty spotless.
Takeaway: WRite down some of my strengths as well as some of my weaknesses, to connect some of what I love with what I love to do.
Practice my "pitch"
–>reflections and practice stating my own goals, strengths, inspirations, and also my weaknesses
Also filled with some scavenger hunts:
–>We were introduced to the Dean and some of the other directors of unreasonable at sea. Lastly, there was an introduction in the auditorium.
Daniel talked to the faculty about "what is UAS" and what are we doing here?
"The reasonable man adapts himself to the world; the unreasonable one persists in trying to adapt the world to himself. Therefore, all progress depends on the unreasonable man [and woman]."
– George Bernard Shaw
Everyone talks of this as a radical experiment, never before been tried. And a big risk. So that seems promising.
–>Daniel also said that this experiment will become the highlander institute of the 21st century, meaning that we will transcend borders, to have a global impact.
–>social action is entrepreneurial thinking, technology, creating a market based on solutions
–>Solutions cant be land locked
It is exciting how much we will be introduced to the D. school and their ways of learning. I presume that will entail the schedule that they've deemed effective, the learning style, and other initiatives.
–>Some other opportunities will be interacting with the young kids, as well as interacting a lot with the students.
–>In the evening Cesar and I went to meet some of his friends here, three out of four who were ocean biologists. They gave us the names of some of the folks who are working at the University and we will go talk to them today about sampling plastic and water for metal detection.
–>We took a walk to some of the shipping areas and took a sample of water and dropped the opflex in the water.