Archive for January, 2013
Protei's goals,
to be reevaluated as a debrief after each port: We will either readjust our goals, or readjust the list to better meet our goals.
A.BUSINESS and STRATEGY – environment and market impact:
1. product: get the product out 2. commercial website
3. community website
4. marketing / communication
5. business strategy to make open hardware profitable / sustainable
6. Explore local access to r&d equipment and manufacturing, headquarters
a. prototyping
b. manufactuinrg
c. access to water
d. costs of living
e. friers family
f. legal / banking / founding
g. language
h. community, networking, inspiration, culture
B. RELATIONSHIPS
1. connection to our community to help redefine the product 2. sponsors
3. partners for research (academics)
4. manufacturing & distribution
5. Potential Protei team members
C. TECHNOLOGY
1. build prototypes 2. test in diff waters
3. field work: testing in hawaii, radioactivity in japan, fisheries in ghana, water preservation / cleanliness in cape town
WORKSHOP 7:
Notes: put your guests or desired guests on Cynthia's spread sheet, for each port
Carly Cooper on GOALS: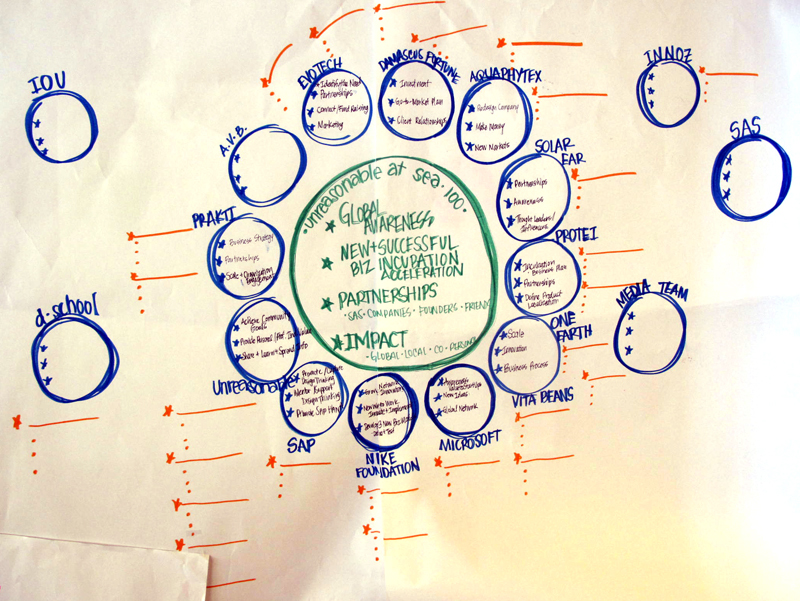 What are our 100 day goals?
Positive impacts in ports, penetration into local markets, collective entrepreneurship, form partnerships, reinventing capitalism and global markets
-awareness: what we're going about social business, global awareness of enterprise, social entrepreneurship; through press
-new incubation models, success for enterprise,
-on board partnerships, relationships, both on board and off board
-global markets, awareness, incubation, and partnerships
THAT IS THE COMMUNITY GOALS
now we will go into COMPANY goals
–>INCUBATION/STRATEGIC BUSINESS PLAN: We will learn the strategy for moving forwards on a successful strategic plan ; open source hw sustainable business model
     –>As we've discussed:
          –>product, 
          –>commercial website, 
          –>community website: centralized info / knowledge on our tech;
–>Marketing and Communication: local and global marketplace(online and for the product)
–>PARTNERSHIPS FOR FUNDRAISING: we need a founding sponsor or some source of $ to come on board and help get Protei into reality;
–>BRING PRODUCT TO THE GLOBAL MARKET (TECH & COMMUNITY): 
     –>EXHIBIT AND ENGAGE:   We will develop three prototypes for each port and we will get the attention of future potential customers; We will exhibit it and engage with locals
     –>COMMUNITY DEVELOPMENTT: as we outreach and meet many
     –>LEARN LOCAL NEEDS: see the needs of scientists, locals, environmentalists, hobbyists: scale the product to fit the needs, or redefine the design to fit the solution
     –>READJUST PRODUCT TO FIT THE NEEDS (through meeting the lead scientists in the fields of marine research & cleanup)
     –>EXPLORE LOCAL MARKETS: for equipment, for the concentrating community who will help us develop, and for manufacturing
ABBY LEE on SMART
Goals are important to write out
CONSTRAINTS often help creativity
SMART: specific measurable attainable results-oriented time-focused
write up community goals for japan
GLOBAL AWARENESS
1. get three stories in the media pre port to get people to the japan event
2. get some (how many – 3) stories in the media: instead, write : After the japan port, ensure there are at least three stores in the media
3. ensure key connectors in social business and PR to the event in Japan, by validating event list by tonight
4. Ensure every company is prepared to evangelize in japan, pitch presentations prepared and practiced, and media assets prepared
NEWS
and Successful business incubation / acceleration
1. workshop on one pagers
PARTNERSHIPS(SAS, friends, business contacts)
1. workshop on business practices in japan, including who are the VCs and what is important to them
2. Sharing contacts made during the event and making introductions
IMPACT(local, global)
1. after the japan port, ensure there are at least three store sin the media
2. ensure everyone has gyshido to follow up with contacts and individuals
-Follow up with contacts or individuals
SPECIFIC GOALS
1. PITCH: slides (address our needs)
2. Documentation: 1-2 pager
3. prototype
4. SAFECAST – partnership, Qualcomm, Nissan – sponsorship, tokyo university robotics lab: demo / small workshop – technology, fukushima exploration / testing/ taking to people, akihabara electronics, business documentation, pitch, meet with cesar's family
Optionals:Website, business plan
–>So here is our proposed schedule for Japan:
27 th Sunday
8:00 : arrival in Yokohama
Custom Clearance
13:00 Depart from Yokohama to Tokyo by train
13:00 – 14:00 : Tokohama – Tokyo by train
14:00 – 21:30 : Pitch session in Tokyo, Digital Garage
21:30 – 22:00 : Commute to Azusa & Taichiro
22:00 – 23:59 : diner / drinks party with Takeo / Katagiri Family
Sleep
28th Monday
7:00 – 9:00 : Meeting with Safecast Joe Moross Tokyo Hacker space
9:30 – 11:30 : Tokyo University Presentation
11:30 – 12:30 : Lunch with Alvaro Cassinelli
13:00 – 16:30 : Akihabara
17:30 : 18:30 : GK Tech / Mastsue / Iwamasa in Shibuya
Evening of 28th : Open, probably and do some work
29th Tuesday
9:00 – 12:30 Nissan Headquarters in Yokohama
13:00 – 15:00 : FuRo Yokohama
16:00 – 18:00 Miraikan, Odaiba
19:00 – 23:00 : Tokyo to Fukushima
30th Wednesday
5:30 : Fukushima Expedition
NOT ATTENDING Kyoto University Workshop
20:00 – 6:00 AM NEXT DAY : Night train
31st Thursday
6:00 – 9:00 : Walk around Kyoto
9:00 – 14:00 : Kyoto Institute of technology
14:00 – 16:00 : Kyoto to Kobe
18:00 Ship gates close
20:00 Departure
And: maybe a really cool part of the day was doing the "deck of cardS" workout with daniel and about 10 guys: here is the rules: black cards: do as many push ups as on the card; Ace is fifteen; my minimum was 10; Red cards: do as many pull ups; my minimum was 4, but got lowered usually

.
2 is stretch; queen is do abs til you're pumped.
So fun. Maybe 15 guys were doing it together.
Then we had another meeting with students and Cesar and I presented our run through slide deck for the slides due for japan. they were due at ten tomorrow but funny thing is only three groups got them in on time. Cesar and I ended up staying up all night working on the deck.

Then we had "town hall":
how have you adapted or evolved ? and how would you like to adapt or evolve going forwards? (Oh and, how would you like the program to evolve?)
I have honed in on a weakness and i want to change that: how to tell a story that people like; how can I practice this?
Funky Love, a tactic used by the Nike Foundation to give constructive critique, taught to us by the guys at Nike Foundation;
Then came Pedro's surprise party;
Then Cesar and I worked on the slides for Japan