Monday was the day I became really sick, but still I was capable of observing three interfaces on my way home. Here is my experience with the Copenhagen Harbour Bus (Havnebussen):
1. Getting on the vehicle (or, the exoskeleton that turns you into an amphibian cyborg creature!)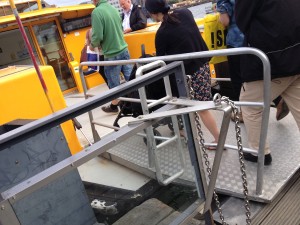 2. Ticket for a ride (Klippekort til Hovedstadsområdet is accepted also at the Harbour Buses). The interface is pretty much stand alone, however the klippekort fits the gap even if it is upside down or facing the back or front, so there are ways of getting it wrong.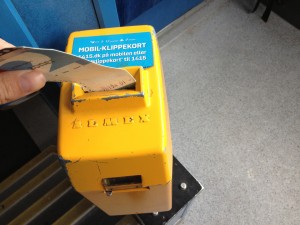 3. Ice cream-eaters are not allowed inside and must go back to the stern  (this photo is from another day, demonstrating the excellent last piece from a creation of Våffelbagaren in Nyhavn)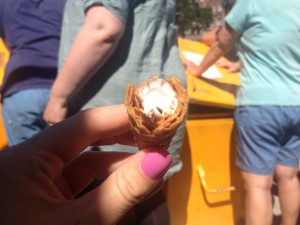 These interfaces are mostly physical ones that need no extra explanation, the process of getting on and paying for your ride is very intuitive and it must be, as there are a constant flow of tourists and the harbour bus needs to keep up with the time table.
Three things could be said however. First, even though there are clear displays in front of the boat a lot of tourists go on the wrong bus, as there are number 991 and 992 going in different directions. When they get on and notice they are at the wrong bus, they turn around and need to go upstreams and blocking all other tourists that follow in line. Secondly, the ticket machine is sometimes broken and there is no other way of paying (nice experience for me but I guess not for the bus company). Thirdly, the banning of ice-cream could be seen on symbols once inside the boat, so the personell had to tell me before when entering, thus no need for the symbols inside as there are no ice-cream shop there.