1. Electricity Outlet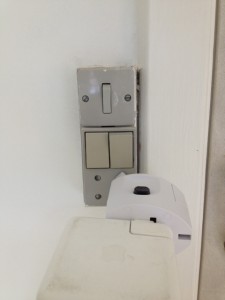 The multiple buttons on this outlet confused me greatly, though I intuitively understand its safety function.  Without guidance, I had to try all kins of combination of on-buttons to make it work.  But since there are not so many buttons, it did not take me too much time.  I guess if one knows the guidance, it shouldn't be that hard and perhaps would protect users from electronic shock well.
2. Interface on the wash machine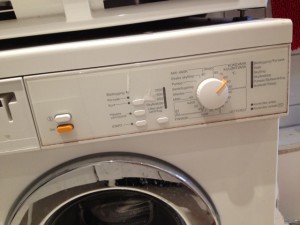 Almost everything is in Danish and I know nothing about it.  However, the orange arrow and the button received my attention immediately and the start button was in English (or may Danish?)  The temperatures are written in universal numbers, making it quite easy for me to understand.  Despite for all my right guesses, I was still uncertain and souk help from my host.  It turned out that I would be able to do it, if I was not terrified by too much Danish on the interface and followed my guts because the steps were quite simple.
3.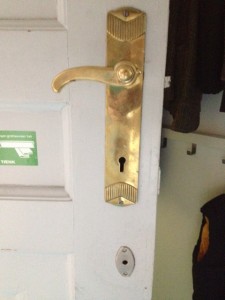 There are two holes on the door and I didn't see the one on the bottom. After a few minutes' failure of trying on top one, luckily, my host heard the weird noise coming from the door and opened the door for me from inside.  It turned out that I should have tried the hole below.  It was very confusing.