Posts Tagged 'unreasonable at sea'
DAY 77: Arrival
Today we arrived in South Africa. In the morning we went over the schedule of events. Then eventually we arrived and begun our journey.
There would be many goodbyes to mentors / learning partners as many people were getting off the ship: CAROLINE; COLMAN; BEN; KAMRAN; SHAWN; REHAN
We met Sean for lunch who runs Unknown Union, a design and fashion shop, or international collective. It's pretty cool. We had lunch nearby and eating real food and vegetables was so nice.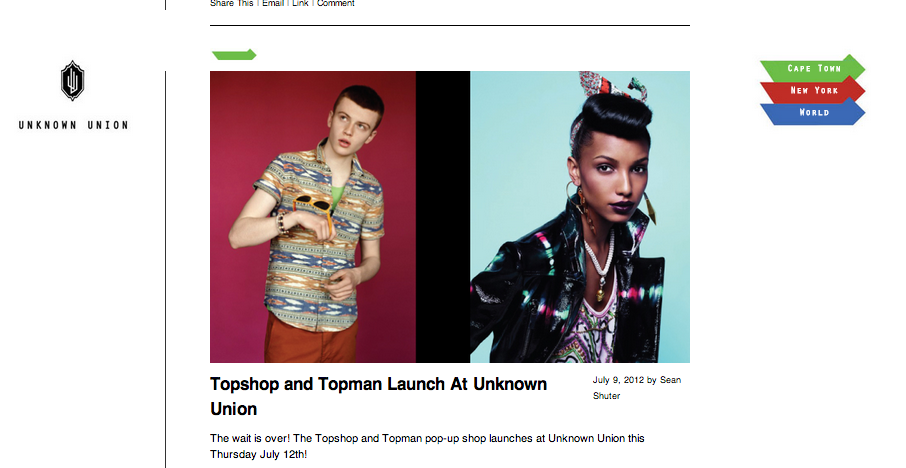 We picked up a rental car from Avis, and although we asked for the cheapest available option, we ended up getting a nice yellow Fiat convertible. It was Easter week so I believe that most of the cars were taken.
The Koeberg Nuclear Power Plant, is currently the only commercial one in the country, and the sole commercial one in the entire African continent.

We drove to Koeberg Nuclear Power Plant but every road we tried to enter on, we got blocked off. But there is a Nature Reserve right next to the power plant, in essence, protecting the land around it. But the Nature Reserve was closed after 4 PM, so we would return in the following days. Instead, we went to the beach and tried to swim in the freezing cold water.
In the evening, we headed over to the house of NIKE Foundation, for a party near the beach, there.
CAMPS BAY ST. YVES BEACH CLUB, THE PROMENADE, VICTORIA ROAD
DAY 78: PROTEI WINS SAP PITCH EVENT
The event was really interesting, a great mix of people, including a number of SAP leaders, businessmen, environmentalists, activists, and creatives. We presented our pitch, in the operatic style that we had prepared, and although experimental, it went over really well.
Protei ended up winning the award for the best pitch, which was awarded with an amazing dinner a few nights later with superstars such as Prince Fahad of Saudi Arabia, KamRan, Matt Mullenweg (founder of Facebook)…
Then we had dinner at La Colombe, which I heard is the # 1 restaurant in South Africa. It was surely very fine food.
Day 79: Shuttleworth Foundation, Woodstock Studios, Moyo
We head to the Shuttleworth Foundation in the morning.
Then we head to Woodstock, to meet Ralph Borland. His studio is amazing and we met some guys working in the same studio complex, from Thingking. They're doing super cool work:
And the hooked us up with some really great folks we met the next couple days.
Day 80: Koeberg Nuclear Power Plant, UTC Electrical Engineering,
Stellenbosch Concert
We head back to Koeberg to try to see what it was all about, what the nature reserve is doing there, and to try get some radioactivity data from the ocean surface.

We went to the University of Cape Town, Electrical Engineering Department to meet Robyn Verrinder.

We went to see Paul play music at a bar / music venue in Stellenbosch.

Day 81: Joe from North Sails, RLabs, Dinner with Prince Fahad & Matt Mullenweg
We went to Kalk Bay Cape Town to meet Joe, who works at North Sails, who was Marc's friend.

Bridge Town & RLABS:
Day 82: Moving Sushi, mapping coral reefs & departure from Cape Town
We met with guys from Moving Sushi, who had just returned from a 5 month voyage called Marine Transect , where they sailed around the African coast lines mapping coral reefs and fish using stereoscopic video technology made by Sea GIS.
It was amazing hearing about their journeys and their research, and gave me much insight into using / developing stereoscopy for research and science.
Then we head back to the ship but on the way had one of the best cups of coffee I've ever had, award winning from Rwanda. And we ate an amazing feast of fruit, cheese, and bread from the NewTown Bakery where we took breakfast.