Unreasonable at Sea day 42
WORKSHOP 17
Our room was very messy (classroom 1). If our ship got an inspection, we would fail because of our room. It is interesting what happens if people have 1 place to work but the function of the work space expands into more of a living space so Shira iterated the rule: NO food in this room ever
in 2 days we arrive to singapore, and at 11 AM we take the bus to the event, which begins roughly at 2 PM; It is a pitch event; practice your slides. get the timing right. This should be the biggest, coolest event with good people. PRACTICE

Pecha Kucha style
Then VIP dinner 7-9 PM; exact location TBD; bus after dinner arranged to take you back to ship; The 2nd day is free. day 1 fancy
Today Cesar is working mostly with BBC.
INTRODUCTIONS
ANDREA from SAP: she was a rock and roll tour manager, working with credit management, calling people for money. Now she works on the Deisgn services team to teach the team design thinking
BIG QUESTION: can we provide people with case studies and to show them this "design thinking" actually works?
MEGAN SMITH from GOOGLE X –
TOM CLAYTON –
used to work in the automotive restoration business, buying and selling classic cars. He met his wife on SAS, and so did his brother.
He grew up in oakland, started an online dvd business. Now he works with Bubble Motion, an online social media engine, and now there are offices in tokyo, vietnam, thailand, seoul, manilla.
–>In the classroom, for the students in George's design entrepreneurship class –
PROTEI:design an online catalog experience for scientist / hackers to participate in the open source movement – three rounds = go to one, rotate and interact with three groups of students
-help hackers understand the potential of protein
-help discvoer kits hackers want to build their own
-help them understand how the sailing robots work
-help build a user scenario for engaging communities and inventors to build their own boats
–what are the components; who are the scientist / hackers? ex of websites -seeed, arduino; diy drones; adafruit; sparkfun; github; littleBits
these are insights we might get:
-who and how would use them
-how do you talk about what you do?
-components / sensitivities for pricing
-what do people want
-help discover kits for people who want to build their own
-how to kitify a product like ours?
ABOUT THE COMPANY: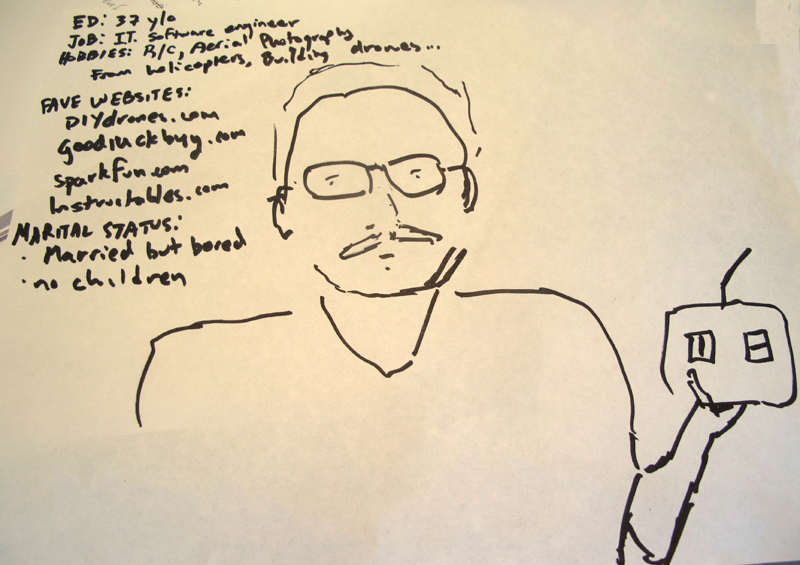 Andrea from SAS:
–WHO IS YOUR USER?
we all like to solve problems, whether you're coding / designing – but you must hone in on your user
–>Actually have the audience engaged; having a good focus is a good starting point – don't build everything for everyone
->who it is for?
->what they will use it for?
1 . engineer who likes to hack things together outside of work,; he has built little artsy projects on the side and played with remote control helicopters likes flying UAV's and has built his own helicopter like the DIY drones helicopter using tutorials from rcdrones.com; he has played with remote control boats only a little bit but the idea of having one that has modular electronics so that he could update them and upgrade them to sail autonomously, that is exciting; He is also excited by the fact that this boat is developed into a larger concept that takes into account that it might be able to actually clean up the oceans eventually; He would be most excited about putting a camera on the boat and making it operable from his computer so he can see a real time camera feed and direct / drive the boat using the camera feed
-he has slight interest in ocean preservation but not really all that much;
-more excited in video games, and he does happen to be a vegetarian; He has a wife who works in education / government; he lives in california, bay area;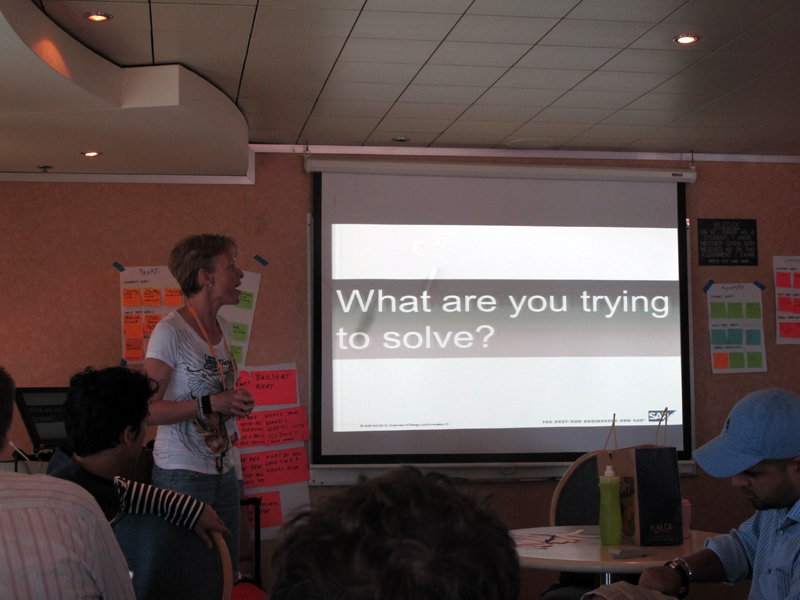 –"HOW MIGHT WE"
-Defer judgement; Encourage wild ideas (perhaps post its); if you have an active group and everyone starts yelling – BUILD on the ideas of others
-be a moderator "collect" all of the post its ? Stay focused on the topic – one voice at a time; Be Visual; go for quantity
-doodling, misinterpretation is good
-build consensus beforehand so people don't just build their own little prototype
-story boarding is helpful
Tom Chi prototyping session
known knowns, knowns unknowns, unknown unknowns
how you process internally, how you communicate it to others; find a logical way to organize it but the right way? How you arrange projects based on passion and energy
–Project management allowing : pick something you're excited about, exponential build up (1 day, 4 day, 16 day)
CLASS 6?
Protei's challenge to the class:
Protei can do things like clean up the oceans; can use the power of proliferation to grow the product from the bottom up; Protei is outreaching to an open source communities of hackers; What are the ways to engage collective action?
–>design an online catalog experience so the open source community of inventors can understand what the kitified version is, what is Protei, develop some user scenarios, and think about the interaction of a good website that sells an interesting product; Open source call to action to hackers, kids, sailing enthusiasts, gov't agencies, scientists: for example: NIKEID customizable Nike shoes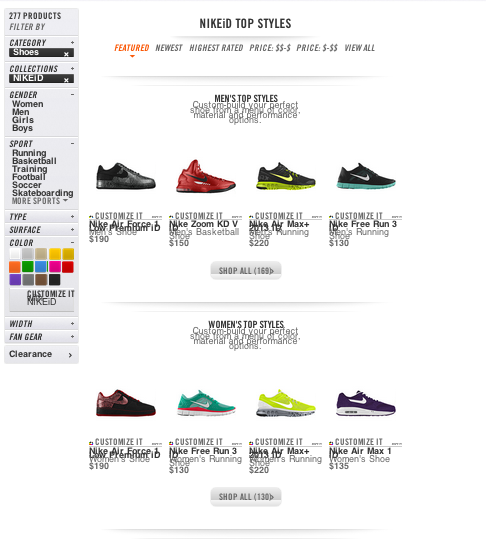 Fireside Chat with Megan Smith from GoogleX
networks – ideas become adjacent , through the internet things become adjacent
FARC; alliance of youth movements; only 30% of the world is mapped; soon, all world knowledge will be available for free
Then she mentioned some other stuff:
KHAN; FIRST ROBOTICS; mobile payment markets; Talent inclusion; women, makers.com, a new series – women represent 17 percent of leadership; Ada lovelace – 1940's mechanical computer
And finished with: what are you really good at what can you bring, what are you passionate about?